CTEP Branches and Offices
Last Updated: 12/17/18
Interview with the Recently-Retired CTEP Associate Director
Jeff Abrams, MD, Retired CTEP Associate Director
After 25 years with the Cancer Therapy Evaluation Program (CTEP), Jeff Abrams, MD, retired from the federal government in November 2018. Jeff describes his career in oncology and some highlights in cancer research during his time at NCI.
How did you decide to become a clinical researcher and how did you eventually come to NCI?
I was a history major in college, and while I took pre-medical school courses, I didn't think about pursuing a career in medicine early on. I was most fascinated by literature and history courses, and for a while, I thought about becoming a lawyer. I had two uncles who were doctors, and by my senior year, I started considering medicine as a career. I attended medical school in Belgium, and during my seven years there, I became fluent in French, an avid skier, and met my wife, who is also a physician. Following medical school, we left Belgium, and both did residency training at St. Agnes Hospital in Baltimore, MD. I then went to the University of Maryland for a fellowship in oncology. I intended to be a practicing oncologist in the community; however, a unique opportunity arose to do a clinical research fellowship in oncology at the Jules Bordet Institute in Brussels, which allowed us to spend a very nice year back in Belgium where our first son was born. This experience pushed me to consider pursuing clinical research, and I returned to the University of Maryland as a faculty member in 1985. In 1988, I became the Director of the Breast Cancer Evaluation Program and an Associate Professor of Medicine and Oncology at Maryland. One of my mentors during my oncology fellowship, Rick Kaplan, MD, had left Maryland to work at the NCI in the Clinical Investigations Branch (CIB), and he told me about a CTEP opportunity to oversee the breast cancer treatment trials portfolio and participate in clinical trials at the NIH Clinical Center. That's how I arrived at NCI in 1993. In CIB, I worked on breast cancer treatment trials, but I also later became involved in melanoma, kidney cancer, brain cancer, and hematologic malignancies. In 2003, I was appointed CIB's Branch Chief, and in July 2008, I became CTEP's Associate Director.
What were some noteworthy changes in cancer clinical trials over the years?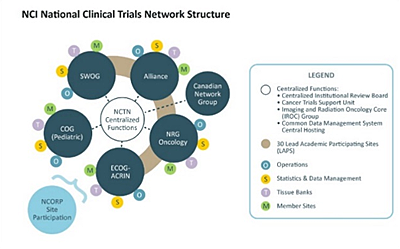 In the early 2000s, there was great interest to modernize the clinical trials process to adapt to the improved understanding of cancer, in part due to the human genome project and other basic science advances. This began with the institution of the Central Institutional Review Board (CIRB) and the Cancer Trials Support Unit (CTSU). I worked closely with former CTEP staff, including Michaele Christian, MD, CTEP's Associate Director, Richard Ungerleider, MD, CIB Branch Chief, Richard Kaplan, MD, and many others to form these centralized NCI resources. In the late 2000s, an Institute of Medicine report called for further modification of the Cooperative Group program. With Jim Doroshow, MD's appointment as DCTD Director, he emphasized improving operational efficiency and developing disease-specific Steering Committees. In concert with the earlier changes, we also decided to consolidate the Cooperative Groups from 10 to 5 to form a more tightly integrated trials system. This ultimately led to NCI's National Clinical Trials Network (NCTN), which was finalized in 2014 under Meg Mooney, MD, CIB Branch Chief.
In 2012, we undertook a multi-year initiative to re-engineer CTEP's information technology processes because the software and hardware hadn't been updated since the late 1990's. Mike Montello, PharmD, Chief, Clinical Trials Operations and Informatics Branch and Meg Mooney, MD, led this effort, and now we have a modernized, agile platform for clinical trials capable of supporting new types of precision medicine trials like NCI-MATCH, Pediatric-MATCH, ALCHEMIST, and Lung MAP. We also modified how we conduct early phase clinical trials by creating the Experimental Therapeutics Clinical Trials Network (ETCTN) in 2014. I was fortunate to have very able leaders in CTEP's Investigational Drug Branch - James Zwiebel, MD, Branch Chief until January 2018, Percy Ivy, MD, Associate Branch Chief, and Jeff Moscow, MD, current Branch Chief - who were instrumental in the creation of national project teams to assist with developing clinical trials for CTEP IND agents.
What are some advances in cancer treatment that you've seen over the last few decades?
When I arrived at NCI, adjuvant therapy for breast cancer was just taking hold. NCI put out Clinical Alerts to physicians that adjuvant chemotherapy could prolong survival for most women who were at risk for metastases. We then spent several years doing chemotherapy-based studies. We were heavily involved in taxane trials to treat breast cancer, which is still a mainstay of treatment today. NCI also supported multiple hormonal therapy studies to determine the best treatment for women with estrogen receptor positive (ER+) breast cancer.
One of the first breakthrough therapies in solid tumors that changed the paradigm in the late 1990s was Herceptin for HER2-positive breast cancer. NCI supported two major adjuvant trials, and suddenly women who previously had the worst prognosis were doing much better. We began to think of breast cancer as more than just hormone positive or negative, but rather a series of distinct, genetically defined diseases. This led to a seminal study, TAILORx, in which a genetic signature was tested for its ability to select women who would or would not benefit from adjuvant chemotherapy. The trial began in 2009, and the results came out at ASCO 2018. The trial proved that most women with ER+ breast cancer on a hormonal agent do not need chemotherapy, while a small subset at high risk of recurrence do indeed benefit. We are in a new era where more studies are genetically classifying patients to determine who may be more likely to benefit from a targeted agent, and some new examples are CDK4-6 inhibitors for hormone receptor positive tumors and checkpoint inhibitors for PDL-1 positive, triple negative breast cancer.
What are some fond memories you have of working in CTEP?
Working in CTEP was a great career choice because of the uniformly excellent and dedicated colleagues there and across DCTD. I learned a lot working alongside creative, resourceful physicians like Malcolm Smith, MD, PhD, Helen Chen, MD, John Wright, MD, and multiple others. I had excellent Branch Chiefs, Jan Casadei, PhD in Regulatory Affairs, Gary Smith in the Clinical Trials Monitoring Branch, and Charles Hall in the Pharmaceutical Management Branch who saw to it that our trials were compliant with all federal rules, safe, and agile enough to deliver investigational drugs nationwide. During my tenure, the Division offered many opportunities for different projects, challenges, and innovative research areas. As much as I enjoyed designing clinical trials and making sure they were scientifically sound, I also enjoyed the work to improve the infrastructure, which presented a different sort of challenge.
I will retain fond memories of CTEP's Protocol Review Committee (PRC) meetings. While often lasting three to five hours, staff have done a fantastic job educating each other there. It shows DCTD's ability to bring together diverse expertise, and it's rare to find this. At this single meeting, we assemble high quality statistical, disease, early drug development, basic science, radiology, and radiation oncology expertise. PRC has met on Thursday mornings since before I joined CTEP, and it's still the same. It has improved over the years - staff now use technology and prepare slides so that we all become educated. It's a better meeting and more interesting for me and staff as well. The PRC is a place where NCI can do its best job at adding value to the national system by focusing expertise to make clinical trials as meaningful as possible. That's why I see this meeting as symbolic as the best of what NCI can do.
What plans do you have for your retirement?
I've always been an avid winter sports enthusiast - downhill and cross-country skiing, especially, and fortunately my wife shares this with me. So, we are going to spend our first winter in Steamboat Springs, CO. My longer-term plans include spending more time in Belgium, visiting with my grandkids, and volunteering in politics and perhaps in medically deprived areas as well.
CTEP Branches and Offices