CTEP Branches and Offices
Last Updated: 09/13/19
National Clinical Laboratory Network
Overview
To expand support for ETCTN studies, a US laboratory network capable of providing centralized, robust assays was established. The National Clinical Laboratory Network (NCLN) will offer validated assays following harmonized SOPs while implementing uniform assay workflow, instrumentation, and data analysis across network labs. The NCLN will feature a centralized specimen biorepository and the support of centralized data reporting.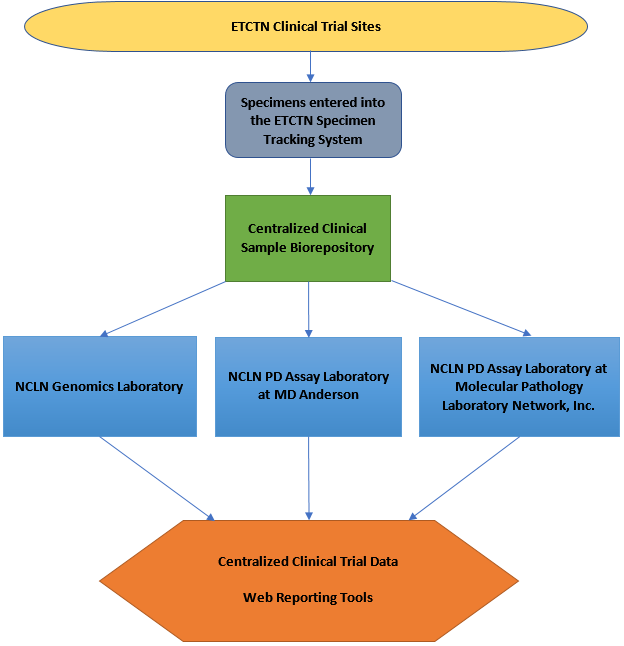 For Investigators
To access the NCLN, an investigator can request collaboration with the NCLN in their Letter of Intent (LOI). As part of an LOI review, CTEP might also recommend use of the NCLN. The specific NCLN assays to be performed for a trial will be agreed upon by a consensus process among the trial investigators, the NCLN laboratories, and CTEP. This process will happen in parallel with drug commitment.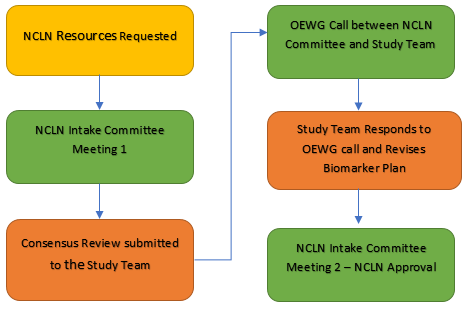 The use of the NCLN is voluntary. The alternative option of an entirely investigator-driven biomarker plan, through BRC review if necessary, is still completely open.
Advantages of Using the NCLN
Utilizing the NCLN, provides such benefits as world-class laboratory collaborators with state-of-the-art platforms. Assays will be performed at the NCI's expense with no need to identify a funding source. Validated SOPs and workflows, including biorepository support, are already in place.
The ETCTN Specimen Tracking System and the NCLN
The ETCTN Specimen Tracking System (STS) is integrated with the Medidata Rave Electronic Data Capture system used for all ETCTN studies. The STS includes facilities to label specimens with pertinent identifiers within the study context or completely delinked identifiers. Neither set of identifiers includes any PHI data. STS includes a collection of flexible and comprehensive eCRFs designed to be configured for any oncology research protocol, including ongoing specimen use consent, details of the specimen collection and processing, as well as complete shipment tracking from treatment site to Biorepository and onto processing labs. Comprehensive summaries of the specimen data across studies is available via Web Reporting. Some limited analysis results will also be available in Rave and Web Reporting. For specimens to be available in the NCLN, protocols must be written to specifically state that the specimens collected will be used for NCLN assays. All specimens headed for NCLN laboratories must first be sent to the ETCTN Biorepository. Use of NCLN laboratories requires a formal review that must occur and be approved before correlatives and biopsies can be written into the protocol.
Additional Resources
CTEP Protocol Development: Ancillary/Correlative and Biomarker Studies
LOI Submission Form
Protocol Templates
MoCha NCLN Assays
PD Labs NCLN Assays
CTEP Branches and Offices