CTEP Branches and Offices
Last Updated: 04/27/17
Meg Mooney, MD, MBA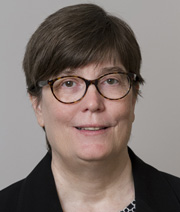 Branch Chief, CIB
Head — Adult Sarcoma/Melanoma
Meg Mooney, MD, MBA is the Chief of the Clinical Investigations Branch (CIB) of the Cancer Therapy Evaluation Program (CTEP), Division of Cancer Treatment and Diagnosis, at the NCI and oversees adult sarcoma cancer therapeutics. She was formerly the Interim Director of the Office of Evidence-Based Surgery at the American College of Surgeons in Chicago, Illinois. She received her medical degree from the University of Chicago Pritzker School of Medicine in Chicago and her general surgical training at the Dartmouth-Hitchcock Medical Center in Lebanon, New Hampshire. She received board certification in surgery in 1997. She completed her Surgical Oncology fellowship training at the Roswell Park Cancer Institute in Buffalo, New York, where she was also a research fellow in the Department of Cancer Control and Epidemiology. Dr. Mooney also holds a Masters of Science degree in Management from the Massachusetts Institute of Technology in Cambridge, Massachusetts.
Dr. Mooney joined the NCI in 2002. She is responsible for managing the gastrointestinal and neuroendocrine cancer treatment trials portfolio for CTEP as well as providing oversight for surgical treatment trials and multi-modality studies in which surgery is a significant component. The entire portfolio consists of more than 50 phase II and phase III trials and requires her to interact and collaborate with the clinical trials Cooperative Groups, pharmaceutical companies, FDA, and other NCI programs, including the Investigational Drug Branch, Specialized Programs of Research Excellence, NCI Cancer Centers, and clinical trial programs within the Divisions of Cancer Prevention and Cancer Control and Population Sciences. Her responsibilities include review of serious adverse events associated with clinical trials in her portfolio, oversight of the operations of the Data Safety Monitoring Committees for several Cooperative Groups, including the Eastern Cooperative Oncology Group (ECOG), the North Central Cancer Treatment Group (NCCTG), and the American College of Surgeons Oncology (ACOSOG), timely dissemination of important results from NCI-sponsored phase 3 trials, and development, implementation, and conduct of treatment referral center studies to provide investigational agents with demonstrated activity in GI/neuroendocrine malignancies to NCI Cancer Centers and other investigators prior to FDA approval of the agents. In the past 4 years, Dr. Mooney was a co-investigator on two treatment referral center studies which provided oxaliplatin and bevacizumab to investigators prior to FDA approval, with responsibilities for all aspects of the development and conduct of the studies including monitoring of medical eligibility issues, serious adverse events, and other patient care issues as well as review of interim outcome data and regulatory oversight of the studies.
Dr. Mooney also interacts with other Institute branches/programs as well as with other Federal Agencies with respect to major clinical trial issues, including presentations at clinical trials Cooperative Group meetings and major medical society meetings such as the Society of Surgical Oncology and the American Association for Cancer Research. Dr. Mooney also served on the FDA panel for the Agency's Public Workshop on Clinical Trial Endpoints in Colorectal Cancer and currently serves as an alternate member from the NIH/NCI on the FDA Drug Safety Oversight Board. She is also Co-Project Officer for the Cancer Trials Support Unit (CTSU) which provides clinicians access to the entire portfolio of NCI-sponsored phase 3 cancer treatment trials and serves over 10,000 investigators and 5,000 sites across the US and Canada. Her achievements at NCI have been recognized by 3 NIH Merit Awards.
Contact Information:
National Cancer Institute
9609 Medical Center Dr., MSC 9739
For USPS: Bethesda, MD 20892-9739
For Express and Courier: Rockville, MD 20850
Phone: 240-276-6560
Fax: 240-276-7892
E-mail: mooneym@ctep.nci.nih.gov
CTEP Branches and Offices