Last Updated: 04/27/16
NCI Experimental Therapeutics
Clinical Trials Network (ETCTN)
Overview/Objectives
The National Cancer Institute (NCI) has formed partnerships in the pharmaceutical industry, academic institutions, and individual investigators for the early clinical evaluation of innovative cancer therapies. The Experimental Therapeutics Clinical Trials Network (ETCTN) was created to evaluate these therapies using a coordinated, collaborative, and inclusive team-based approach to early phase experimental therapeutic clinical trials.
The objectives of the ETCTN are to:
Conduct early clinical trials of NCI-IND agents in high priority areas of unmet medical needs
Ensure efficient and timely activation and conduct of these clinical trials
Integrate preclinical findings using clinical samples for biomarker analysis
Promote collaboration among institutions and investigators
Integrate molecular characterization, pharmacology, cancer biology, and imaging into clinical trials
See the links in the sidebar for more information about the ETCTN.
ETCTN Participating Sites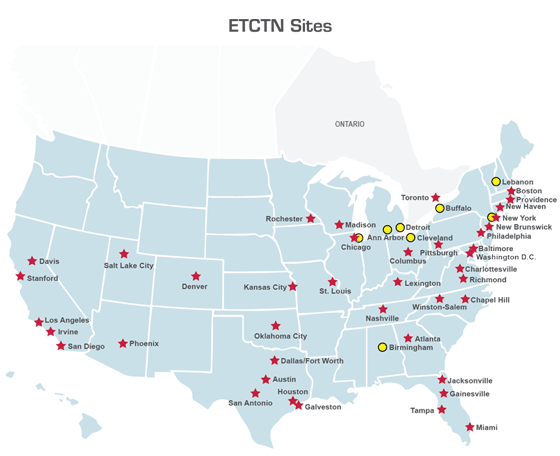 ETCTN Phase 1 and Phase 2 Program Sites
ETCTN clinical sites (see map above) participate in a Phase 1 Program supported by UM1 grants, integrated with a Phase 2 Program supported by cooperative agreements as supplements to the existing phase 1 UM1 grant. By integrating Phase 1 and Phase 2 Program activities and administrative operations under the UM1 structure, ETCTN awardees will have the flexibility to expand phase 1 studies quickly upon detecting early activity signals.
NCI Early Drug Development Opportunity Program (EDDOP)
Beginning in 2016, investigators from certain NCI-designated Cancer Centers not affiliated with the ETCTN may submit a Letter of Intent (LOI) and, if approved, receive full ETCTN support for the clinical trial. Non-ETCTN NCI Cancer Centers will also be able to compete for administrative supplements to enroll patients on select ETCTN phase 2 trials. Click here for more information about the EDDOP.
Other ETCTN-affiliated Networks
Other consortia which participate in ETCTN trials are:
NCI-sponsored Infrastructure for ETCTN Trials
ETCTN trials are supported by integrated centralized clinical and administrative services sponsored by NCI. More details, and links to each service, may be found here.