CTEP Branches and Offices
Last Updated: 10/29/19
Bhanu Ramineni, M.S., M.S.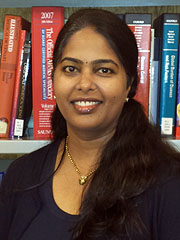 Branch Chief
Bhanu Ramineni, M.S., M.S., became the Chief of the Regulatory Affairs Branch in October 2019. She joined the Drug Regulatory Group in the branch in 2010. She holds two Master's degrees: one in Environmental Sciences from Nagarjuna University, India, and a second one in Biochemistry and Molecular Biology with a specialization in Biotechnology from Georgetown University. Ms. Ramineni comes with significant experience in FDA Regulatory Affairs, as well as preclinical and clinical development of vaccines with a special focus in immunology. She has managed a portfolio of CTEP investigational agents, which involves the maintenance of the complete life cycle of Investigational New Drug Applications (IND) and facilitates FDA communications related to that portfolio.
Before coming to CTEP, she spent 10 years at the NIAID (Laboratory of Malaria Immunology and Vaccinology), WRAIR (Division of Viral Diseases) and NIEHS (Environmental Autoimmunity Group) providing scientific, regulatory, and management support to the development and implementation of vaccine (malaria and dengue) strategies, as well as participating in drafting MTAs, RFPs, proposal writing, and the ad hoc review of proposals.
CTEP Branches and Offices