CTEP Branches and Offices
Last Updated: 10/10/23
Lori A. Henderson, PhD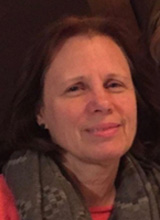 Branch Chief, CGCB
Dr. Henderson is the Chief for the Clinical Grants and Contracts Branch. As Chief, she is responsible for planning, coordinating, advising, and evaluating programmatic activities in CGCB's portfolio of clinical trials and research programs and supervises Program Directors who oversee several cancer-specific disease areas. Lori continues to serve as a Program Director managing CGCB's hematology-oncology portfolio in addition to her substantial involvement in the management of the BMTCTN, CIBMTR, CCSS, and the PXDNET 2.0 initiative currently (see CGCB program description for details).
Dr. Henderson initially joined NCI in 2011 as a Program Director in the Clinical Trials Branch within the Cancer Imaging Program. Here, she spent 8 productive years overseeing NCI-funded clinical imaging trials focused on the diagnosis and treatment of a wide range of solid tumors. This included the oversight of Phase 2 and 3 trials conducted by the American College of Radiology Imaging Network. During this time, Dr. Henderson also held positions with increasing responsibility on two National Science and Technology Council's (NSTC) Interagency Subcommittees/Work Groups within the White House Office of Science and Technology Policy:
NSTC's Nanoscale Science, Engineering, and Technology Subcommittee

: Serving as the NIH agency representative for 10 years promoting NIH's interests in biomedical R&D with an emphasis on nanomedicines through trans-agency initiatives and the 2011, 2014, and 2017 Strategic Plans for the National Nanotechnology Initiative.

NSTC's Interagency Working Group on Medical Imaging (IWGMI)

: Serving as a member of the IWGMI group tasked to coordinate the Federal investment in medical imaging research and develop a strategic plan which resulted in the release of the 2017 Roadmap for Medical Imaging R&D.
Dr. Henderson has also been instrumental in serving on several of NIH's Office of Extramural Research (OER) working groups involved in the planning, coordination, and implementation of the NIH Clinical Trial Stewardship Initiative since 2016 with ongoing responsibilities to date. These activities include efforts to strengthen and assess policies, improve clinical trial monitoring procedures, enhance peer review of trials, and the reconciliation of human subjects research in clinical trials. Furthermore, Dr. Henderson leads the NCI Clinical Trials Stewardship Committee that continues to review and update NCI's specific stewardship procedures and operations to ensure proper oversight and monitoring of NCI-funded awards with clinical trials.
Prior to joining the government, Dr. Henderson was a senior scientist and global project leader at Novozymes North America (Novo Nordisk) working on research projects funded by federal grants and new business incubators and has several patents. She obtained her Ph.D. in Polymer Science (chemistry-engineering majors) from the University of Massachusetts, Lowell, which laid the groundwork for understanding biomaterials and biological processes for health-related research at the molecular and cellular levels.
Contact Information:
National Cancer Institute
9609 Medical Center Dr., MSC 9739
For USPS: Bethesda, MD 20892-9739
For Express and Courier: Rockville, MD 20850
Phone: 240-276-5930
Fax: 240-276-7892
Email: hendersonlori@mail.nih.gov
About the Branch Chief

Lori A. Henderson, PhD, is the Chief for the Clinical Grants and Contracts Branch. As Chief, she is responsible for planning, coordinating, advising, and evaluating programmatic activities in CGCB's portfolio of clinical trials and research programs and supervises Program Directors who oversee several cancer-specific disease areas. Lori continues to serve as a Program Director managing CGCB's hematology-oncology portfolio in addition to her substantial involvement in the management of the BMTCTN, CIBMTR, CCSS, and the PXDNET 2.0 initiative currently. More…
CTEP Branches and Offices