CTEP Branches and Offices
Last Updated: 09/04/20
Minkyung (Min) Song, Ph.D.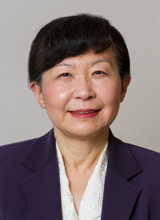 Program Director
Dr. Minkyung Song fosters, manages, oversees and analyzes the NCI portfolio on multidisciplinary, translational and clinical research grants and cooperative agreements for:
Clinical trials of chemotherapy, immunotherapy, cellular therapy, gene therapy, radiation therapy, surgery, cord blood transplant, hematopoietic stem cell transplant, or their combinations, and associated correlative studies
Discovery and development of new or improved anti-tumor agents
Development and validation of clinical tools for monitoring responses to therapies, acquired resistance, adaptive immunity and recurrence of cancer.
Dr. Song serves for the Cancer Moonshot Implementation Team for Blue Ribbon Panel Recommendation on the "Cancer Immunotherapy Translational Science Network." She currently serves as the NCI Program Contact for several funding opportunity announcements (FOAs), including three Cancer Moonshot FOAs and an FOA for extramural-intramural collaborative research at the NIH Clinical Center. She has participated in several trans-NIH activities, including the Adverse Drug Reactions Working Group, the Pharmacogenomics Research Network, the Rigor and Reproducibility Focus Group and the Translational Research Interest Group.
Dr. Song has received various Awards and Certificates, including NIH Merit Awards, the NIH Director's Award, and a Certificate for completing the NIH Senior Leadership Program.
Dr. Song received her Ph.D. degree in Biochemistry and Molecular Biology from the University of Minnesota Medical School in 1983. She was a Visiting Post-Doctoral Fellow and a Senior Staff Fellow in the NIH Intramural Research Program for more than 5 years. Then, Dr. Song was an Interdisciplinary Regulatory Review Scientist in the Food and Drug Administration for 9 years prior to joining DCTD in 1997 as a Program Director.
About the Branch Chief
Vikram Devgan, Ph.D., MBA. joined the National Cancer Institute in 2016 as a Chief of Clinical Grants and Contracts Branch of the Cancer Therapy Evaluation Program (CTEP), Division of Cancer Treatment and Diagnosis. From 2006 to 2016, Dr. Devgan held positions of increasing responsibilities with QIAGEN Inc., rising to Head of the Center of Excellence for Biological Research Content. More…
CTEP Branches and Offices