CTEP Branches and Offices
Last Updated: 11/22/16
Shakun Malik, MD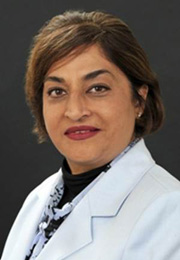 Head — Thoracic Cancer Therapeutics
Dr. Shakun Malik joined the National Cancer Institute's (NCI) Cancer Therapy Evaluation Program in November 2013 as the head of thoracic oncology therapeutics. Her goal is to facilitate lung cancer research. Prior to joining CTEP, Dr. Malik worked at the U.S. Food and Drug Administration (FDA), where she gained valuable experience in understanding the regulatory pathways that make drugs available to patients.
Dr. Malik has extensive clinical background. She currently performs clinical work one day a week at the NCI (Clinical Center, and has worked as an Associate Professor of Medicine in the Department of Hematology/Oncology at the Georgetown University Hospital. She has served as the Chief of Center for Thoracic Oncology and Director of Multi-Disciplinary Thoracic Oncology Clinic at the Lombardi Cancer Center, and also worked as an associate in a Phase I program of drug and developmental therapeutics.
Dr. Malik graduated from of The University of Kashmir, India, and completed her hematology/oncology fellowship at The George Washington University and conducted research with the Human Genome project at the National Institutes of Health. She is also triple boarded by the American Board of Internal Medicine (Internal Medicine/Oncology and Hematology).
Dr. Malik has multiple publications in peer-reviewed journals. She has presented the FDA's work in multiple scientific seminars and co-chaired a Joint NCI Thoracic Malignancies Steering Committee-FDA Workshop "Strategies for Integrating Biomarkers into Clinical Development of New Therapies for Lung Cancer" in February 2012.
Dr. Malik's interests focus on lung cancer and the development of new markers and therapeutic options for this disease.
Contact Information:
National Cancer Institute
9609 Medical Center Dr., MSC 9739
For USPS: Bethesda, MD 20892-9739
For Express and Courier: Rockville, MD 20850
Phone: 240-276-6560
Fax: 240-276-7892

About the Branch Chief

Meg Mooney, MD, MS, is the Associate Director of the Cancer Therapy Evaluation Program (CTEP), Division of Cancer Treatment and Diagnosis (DCTD), at the National Cancer Institute (NCI), and she is also the Chief of the Clinical Investigations Branch (CIB) in CTEP. More…
CTEP Branches and Offices