CTEP Branches and Offices
Last Updated: 09/21/20
Meg Mooney, MD, MS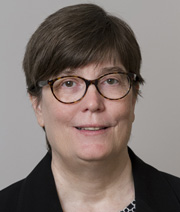 Associate Director, CTEP
Branch Chief, CIB
Meg Mooney, MD, MS, is the Associate Director of the Cancer Therapy Evaluation Program (CTEP), Division of Cancer Treatment and Diagnosis (DCTD), at the National Cancer Institute (NCI), and she is also the Chief of the Clinical Investigations Branch (CIB) in CTEP.
She received her medical degree from the University of Chicago Pritzker School of Medicine in Chicago and her general surgical training at the Dartmouth-Hitchcock Medical Center in Lebanon, New Hampshire. She completed her Surgical Oncology fellowship training at the Roswell Park Cancer Institute in Buffalo, New York, and also holds a Master of Science degree in Management from the Massachusetts Institute of Technology in Cambridge, Massachusetts.
Dr. Mooney joined NCI in 2002 as Head of Gastrointestinal and Neuroendocrine Cancer Therapeutics in CIB. She was appointed Chief of the branch in May 2009. She is responsible for the direction of the NCI National Clinical Trials Network (NCTN) Program. The NCTN performs large, definitive, practice-changing phase 2 and 3 cancer treatment and advanced imaging trials. In April 2014, she was named the Deputy Associate Director of CTEP. Dr. Mooney became the Acting Associate Director of CTEP in December 2018, then accepted the position of Associate Director in April 2020, with oversight and coordination responsibilities for the programmatic, financial, and administrative functions for the entire CTEP program, which covers a broad, multidisciplinary, clinical research effort to coordinate nationwide phase 1-3 clinical trials programs testing new treatment approaches for cancer.
Contact Information:
National Cancer Institute
9609 Medical Center Dr., MSC 9739
For USPS: Bethesda, MD 20892-9739
For Express and Courier: Rockville, MD 20850
Phone: 240-276-6560
Fax: 240-276-7892
E-mail: mooneym@ctep.nci.nih.gov
About the Branch Chief

Meg Mooney, MD, MS, is the Associate Director of the Cancer Therapy Evaluation Program (CTEP), Division of Cancer Treatment and Diagnosis (DCTD), at the National Cancer Institute (NCI), and she is also the Chief of the Clinical Investigations Branch (CIB) in CTEP. More…
CTEP Branches and Offices