CTEP Branches and Offices
Last Updated: 09/01/17
Bhupinder Mann, MBBS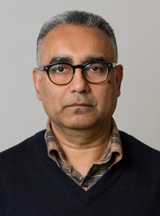 Head — Genitourinary and Brain Cancer Therapeutics
Dr. Bhupinder Mann joined the Clinical Investigations Branch at CTEP in September 2008. He has the Genitourinary and the Adult Brain Cancer therapeutic clinical trials portfolio. He is the assigned CIB scientific liaison to the NCTN NRG group.
Dr. Mann came to the CTEP from the Food and Drug Administration (FDA) in 2008. He was a Medical Officer and Acting Team Leader in the Office of Oncology Drug Products (OODP) at the Center for Drug Evaluation and Research (CDER), FDA from February 2004 to September 2008.
Dr. Mann received his Bachelor of Medicine and Bachelor of Surgery (MBBS) degree in 1983 from the Government Medical College at Patiala, in the state of Punjab, India. He was a Resident and Chief-resident in Internal Medicine, 1987-91, in the Department of Medicine at Harper Hospital and Detroit Medical Center at the Wayne State University School of Medicine in Detroit, Michigan. He was a Fellow in Hematology & Medical Oncology at the Mayo Clinic in Rochester, Minnesota, 1991-94, and a Fellow on the Bone Marrow Transplantation Service at the Mayo Clinic in 1995. He is Board-Certified in Internal Medicine (1991), Hematology (1994), and Medical Oncology (1995, 2007).
Dr. Mann served as an Attending Physician and Division Chief in the Division of Hematology and Medical Oncology in the Department of Medicine at the Alameda County Medical Center and Highland General Hospital in Oakland, California from 1996 to 1999. He was a Consultant in Medical Oncology at the King Faisal Specialist Hospital and Research Center in Riyadh, Saudi Arabia, and a Senior Consultant in Medical Oncology at the National Cancer Center of Singapore 1999 - 2004 before joining the FDA in 2004.
Contact Information:
National Cancer Institute
9609 Medical Center Dr., MSC 9739
For USPS: Bethesda, MD 20892-9739
For Express and Courier: Rockville, MD 20850
Phone: 240-276-6560
Fax: 240-276-7892
E-mail: mannb@mail.nih.gov
About the Branch Chief

Meg Mooney, MD, MS, is the Associate Director of the Cancer Therapy Evaluation Program (CTEP), Division of Cancer Treatment and Diagnosis (DCTD), at the National Cancer Institute (NCI), and she is also the Chief of the Clinical Investigations Branch (CIB) in CTEP. More…
CTEP Branches and Offices