CTEP Branches and Offices
Last Updated: 11/11/21
Grace Mishkin, PhD, MPH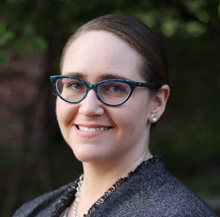 Health Science Policy Analyst
Grace Mishkin joined the Clinical Investigations Branch in CTEP as a Public Health Analyst in July 2016. She provides operational support for NCI's National Clinical Trials Network and coordinates several cross-cutting projects around clinical trials at NCI. Areas of focus include clinical trial accrual, representation of underserved populations in research, research biospecimen and data availability and infrastructure, and systems evaluation and improvement. Grace is a Contracting Officer Representative and also serves as a scientific reviewer for ancillary and health-related quality of life studies.
Grace received her BA from Harvard College in 2009. She worked on research and patient education programs as a program director at the Bladder Cancer Advocacy Network before going on to receive her MPH from Emory's Rollins School of Public Health in 2014.
Grace came to NCI as a Presidential Management Fellow in 2014 and completed rotational assignments in NCI's Division of Cancer Treatment and Diagnosis, Division of Cancer Prevention, and Coordinating Center for Clinical Trials, as well as an external detail in the FDA's Office of Hematology and Oncology Products in the Center for Drug Evaluation and Research.
Contact Information:
National Cancer Institute
9609 Medical Center Dr., MSC 9739
For USPS: Bethesda, MD 20892-9739
For Express and Courier: Rockville, MD 20850
Phone: 240-276-5599
Fax: 240-276-7892

About the Branch Chief

Meg Mooney, MD, MS, is the Associate Director of the Cancer Therapy Evaluation Program (CTEP), Division of Cancer Treatment and Diagnosis (DCTD), at the National Cancer Institute (NCI), and she is also the Chief of the Clinical Investigations Branch (CIB) in CTEP. More…
CTEP Branches and Offices