Last Updated: 10/19/15
Julie Rhie, Ph.D.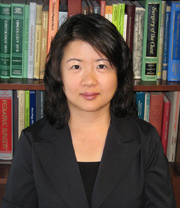 Pharmacologist, Senior Regulatory Affairs Scientist
Julie Rhie joined the Regulatory Affairs Branch in 2001. Her role within RAB includes acting as a regulatory liaison for CTEP with the FDA and as an internal regulatory policy advisor. She received her Doctorate in Pharmaceutics from the University of Michigan specializing in oral absorption pharmacokinetics. Prior to joining RAB, Dr. Rhie was a Pharmacologist with the Developmental Therapeutics Program, DCTD, NCI and an IGMS Pharmacology Research Associate Fellow where she was involved in research and regulatory review at CBER, FDA.
About the Branch Chief
Jan Casadei, PhD joined the National Cancer Institute in 1991, where she is now chief of the Regulatory Affairs Branch, CTEP. Her area of expertise covers FDA regulations, policies and guidelines for the conduct of clinical studies with investigational agents. As the chief of the Regulatory Affairs Branch, Dr. Casadei is responsible for facilitating the development of promising investigational anti-cancer agents, by providing regulatory/IND support More…