CTEP Branches and Offices
Last Updated: 10/03/19
Jianqiao Zhang, Ph.D.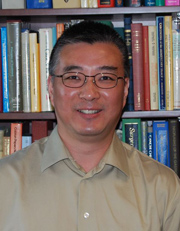 Associate Chief, Agreement Coordination Group
In September 2019, Dr. Jianqiao Zhang was appointed as the new Associate Chief, Agreement Coordination Group in the Regulatory Affairs Branch, CTEP. Dr. Zhang received his PhD in Biochemistry from the University of Nottingham, UK. He did postdoctoral research on cancer biology before joining the Agreement Coordination Group, Regulatory Affairs Branch at CTEP. At RAB, Dr. Zhang's responsibilities will include primary responsibility for setting up research and development agreements such as CRADAs between the NCI and pharmaceutical companies on anti-cancer drug development. He also will provide advice to pharmaceutical companies, diagnostic companies, NCI network groups, NCI grantees, and contractors on technology transfer, intellectual properties, clinical research regulations as well as NIH and NCI policies related to collaborations.
About the Branch Chief

Bhanu Ramineni, M.S., M.S., became the Chief of the Regulatory Affairs Branch in October 2019. She joined the Drug Regulatory Group in the branch in 2010. She holds two Master's degrees: one in Environmental Sciences from Nagarjuna University, India, and a second one in Biochemistry and Molecular Biology with a specialization in Biotechnology from Georgetown University. Ms. Ramineni comes with significant experience in FDA Regulatory Affairs, as well as preclinical and clinical development of vaccines with a special focus in immunology. More…
CTEP Branches and Offices