Last Updated: 10/19/15
Jian Zhang, Ph.D.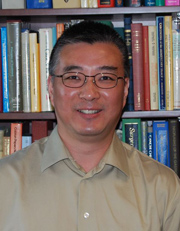 Senior Specialist, R&D Agreements
Jian Qiao Zhang received his Ph.D. in Biochemistry from the University of Nottingham, UK. Dr. Zhang completed his postdoctoral training at the NIH and the American Red Cross focusing on protein-protein interactions and cancer research. In 2003 Dr. Zhang joined the Regulatory Affairs Branch where his responsibility includes setting up research and development agreements between the NCI and pharmaceutical companies for collaborative research on anti-cancer drug development, and advising academic institutions and pharmaceutical companies on issues related to technology transfer.
About the Branch Chief
Jan Casadei, PhD joined the National Cancer Institute in 1991, where she is now chief of the Regulatory Affairs Branch, CTEP. Her area of expertise covers FDA regulations, policies and guidelines for the conduct of clinical studies with investigational agents. As the chief of the Regulatory Affairs Branch, Dr. Casadei is responsible for facilitating the development of promising investigational anti-cancer agents, by providing regulatory/IND support More…