CTEP Branches and Offices
Last Updated: 09/06/18
Barry Goldspiel, PharmD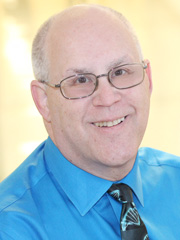 Clinical Trials Support Specialist
Barry Goldspiel, PharmD, joined CTEP/CTOIB in September 2018. He had worked in the Pharmacy Department at the NIH Clinical Center for over 30 years. He has served as an Oncology Clinical Pharmacy Specialist, Projects Coordinator Pharmacist, and most recently as the Deputy Chief. Dr. Goldspiel established and served as Program Director for the PGY-2 Residency in Oncology Pharmacy Practice.
He received his BS in Pharmacy from the Arnold and Marie Schwartz College of Pharmacy and a PharmD from the University of Texas Health Science Center at San Antonio. Dr. Goldspiel completed a Specialized Residency in Oncology Pharmacy Practice at the Audie Murphy Veterans Hospital in San Antonio. He is board-certified in pharmacotherapy and oncology pharmacy.
Dr. Goldspiel was involved with implementing the Clinical Research Information System (CRIS), which is the NIH Clinical Center's electronic health record system; the inpatient and outpatient pharmacy computer systems; and the bedside barcode scanning medication administration system. He has served on the NCI and NHGRI IRBs and currently serves on the General Medicine I (NHLBI/NHGRI/NCI) IRB. He led the effort to establish the hospital policy for safe prescribing of chemotherapy/biotherapy medications. He also led the effort to integrate pharmacogenomics into CRIS and clinical care.
Dr. Goldspiel has presented at local, national, and international meetings. He has served as associate investigator on many NCI and NHGRI protocols. Dr. Goldspiel has co-authored numerous book chapters, abstracts, articles, and guidelines.
He is Editor of the Journal of Oncology Pharmacy Practice, the official publication of the International Society of Oncology Pharmacy Practitioners (ISOPP). He is also a past-President and fellow of ISOPP and of the Hematology/Oncology Pharmacy Association.
Contact Information:
National Cancer Institute
9609 Medical Center Dr., MSC 9742
For USPS: Bethesda, MD 20892-9742
For Express and Courier: Rockville, MD 20850
Phone: 240-276-5390
Email: bgoldspiel@nih.gov
About the Branch Chief

Michael Montello, PharmD, MBA, has been with CTEP for 25+ years. He has led or participated in dozens of major initiatives and projects during his career. More…
CTEP Branches and Offices