CTEP Branches and Offices
Last Updated: 08/25/23
Josh Lorenzo, MPH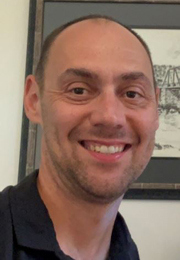 Co-Head, CIRB Strategy and Operations
Josh Lorenzo, MPH, joined the Clinical Trials Operations and Informatics Branch in August 2023. He brings to CTEP considerable experience in IRB administration, having spent most of his career in positions supporting both the NCI and the NIAID intramural IRB Offices.
He began his NIH career as a contractor in 2000, supporting CTEPís Protocol and Information Office. Additional experience includes helping to establish an audit and monitoring program at the NCIs Cancer Imaging Program and most recently as a program analyst at NICHDs office of Obstetric and Pediatric Pharmacology and Therapeutics Branch (OPPTB).
Mr. Lorenzo received his masterís degree in public health and a graduate certificate in infection control from the University of South Florida.
About the Branch Chief

Michael Montello, PharmD, MBA, has been with CTEP for 25+ years. He has led or participated in dozens of major initiatives and projects during his career. More…
CTEP Branches and Offices